'Wagner's Piano Music' 2020
Wagner Society of Scotland
Read more about the opera General
Wagner and Liszt: transcriptions of a love triangle'. Matthew Shiel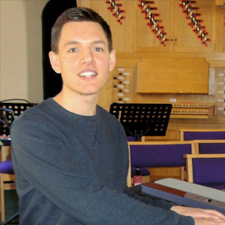 One of the most valuable tasks that the piano virtuoso Franz Liszt undertook for Richard Wagner was to transcribe his operas for piano, disseminating Wagner's music far beyond the Bayreuth Festspielhaus to the domestic home audience. Their published correspondence strongly suggests they were madly in love; this lecture explores the nature of said love and the role Cosima Wagner (née Liszt) may have played in this unusual love triangle.
Matthew Shiel is an Honours (first class) graduate in piano, harpsichord and organ performance at the Royal Conservatoire of Scotland where he won several academic and performance prizes including the Mary and Raymond Thomson Organ Scholarship, Bach Prize for Piano, Harpsichord & Organ and Agnes Millar Prize for Outstanding Harmony & Counterpoint. After serving four years as Director of Music, Choirmaster and Organist of Fairmilehead, Church of Scotland, he was appointed lecturer in interdisciplinary improvisation at Edinburgh Napier University. Creative Scotland awarded him a bursary to study Dalcroze Eurythmics with Monica Wilkinson. He is currently associate piano teacher to Alison House, Edinburgh University alongside his private piano tuition studio in Edinburgh City Centre. Matthew Shiel will make his concerto debut this summer as solo pianist with the Abbotsford String Orchestra conducted by Derek Williams, as part of the Edinburgh Festival Fringe playing Mozart's Piano Concerto in D minor (K.466) alongside the world première of Alfredo Caponnetto's Baroque Concerto.
All events are held on Sundays at the Edinburgh Society of Musicians, 3 Belford Road, EH4 3BL (by Dean Bridge) and generally run from 6.30 to 8.30pm
Admission £7 members, £10 non-members, students free on production of student ID. Student membership of the Society is also free.
New members always welcome. Pitch up and meet members or just join.
For details see the Society's website here.